Leigh Performing Arts Department Chair
Theater Arts Department Director
Bryan Ringsted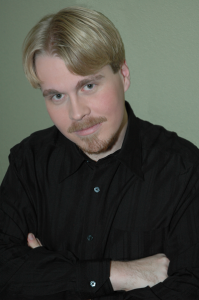 Bryan Ringsted has been involved in theater arts since he was 9 years old, playing the big bad wolf in Mrs. Jacobs' Gate extension program at Los Alamitos elementary school. Raised in educational theater, he continued to perform in plays every year until he slid to the other side of the casting table and started directing and designing in college. He graduated from Pioneer High School in San Jose and helped create the advanced drama class while he was there. He went on to West Valley Community College to explore his career options (because everyone told him "you can't make a career in Theater Arts, so you need to find something else you can do that you tolerate, but don't love). After a year and a half, Bryan realized that everyone who told him to compromise on his dreams knew nothing of life, and he transferred to San Jose State University as a Theater Arts Major. Bryan developed his literary skills as an English minor while finding his passion in Directing, Set design, and Audio Design. His senior year he left the stage to start only directing and designing shows for SJSU. He graduated valedictorian of the Radio, Television, Film, and Theater departments and went on to earn his secondary teaching credential at SJSU.
Bryan began his teaching career at Branham high school as a full semester substitute teacher, teaching Beginning Drama, Advanced Drama, Media/video productions, and English 4. Taking full time credential classes while teaching full time was the hardest thing Bryan has ever done. This trial by fire forged Bryan into the teacher his is today though, so it was truly worthwhile. From there, Bryan was hired at Leigh and began to lead the theater department from three classes and little outside involvement to the robust department we see today (with a total of 10 classes students can take and 6+ plays per year outside of class). Bryan Ringsted is proud to be part of Leigh High School Thespian Troupe #7618 and will always celebrate in the standard of excellence that requires for himself and his students.
Director of Music
Alex Christensen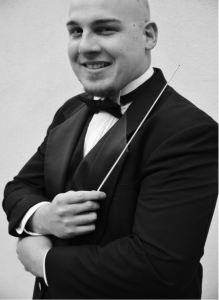 In the Fall of 2012, Mr. Christensen received his Bachelors Degree in Music Education from Northern Arizona University, where he studied bass trombone with renowned trombonist and Andover Educator, David Vining.
While at NAU, Mr. Christensen performed in several ensembles including the NAU Wind Symphony under the direction of Dr. Daniel Schmidt, NAU Jazz One under the direction of Mr. Joel DiBartolo and, NAU Symphony Orchestra under the direction of Dr. Nicholas Ross. He also had the pleasure of singing tenor under the direction of Dr. Edith Copley, with the Shrine of the Ages Choir.
Since moving to San Jose in summer of 2013, Mr. Christensen has served as brass staff for the Santa Clara Vanguard Cadets Drum and Bugle Corps. In summer of 2015, Vanguard Cadets won Drum Corps International's Open Class Championship as well as the High Brass Title, with Mr. Christensen as Brass Caption Head.
Mr. Christensen serves as Director of Music at Leigh High School, where he conducts Concert Band, Symphonic Band, Concert Choir, Jazz Band, and Wind Ensemble. He also oversees The Leigh Marching Band, Winter Percussion, and Winter Guard.