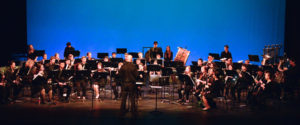 Leigh High School Wind Ensemble has long had a reputation for excellence. In 2003, the Wind Ensemble participated in the New York Wind Band competition in the world-famous Carnegie Hall and earned a gold medal.  In 2004, the Wind Ensemble earned a command performance, the highest award possible, at the Pacific Basin Festival in Honolulu, Hawaii. The Wind Ensemble was invited and performed in the State of Hawaii's 50th Statehood Anniversary in 2009, in Honolulu, Hawaii. In 2011, the Wind Ensemble traveled through England, Wales, and Ireland, performing in cathedrals and other public venues. Leigh Wind Ensemble consistently receives the highest marks each year at the California Music Educators Association (CMEA) festivals.
In 2015, the Wind Ensemble and Choir will be touring in Texas over Memorial Day weekend. The student's itinerary will include performances at The Alamo, the River Walk in San Antonio, and they will be performing the National Anthem at the opening ceremonies of the Bandera Rodeo.
The Wind Ensemble performs a wide repertoire of music, ranging from classics for wind bands to modern works. The Wind Ensemble is an audition-only band of woodwind, brass, and percussion musicians. Auditions are held each spring for the following year's Wind Ensemble.